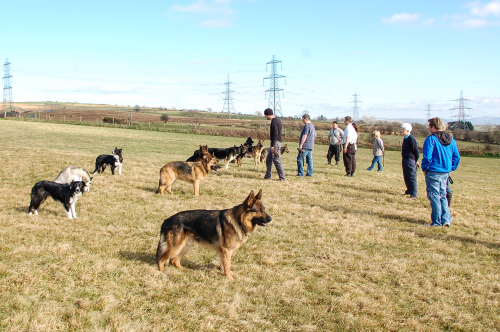 This class is mainly focused on, off lead obedience, to a high standard.
Gaynor adds something different, to keep things interesting. she teaches you how to get your dog, to use his sense of smell, to find his toy.
You Will Learn
Off lead heel work.
In this course Gaynor teaches you how to incentivise your dog to stay at your side when you are walking the dog off lead.
Three minute stay.
We continue to practice your dog staying in the same position, aiming now for a three minute stay with people walking around to create a distraction.
Recall with distraction.
We improve the recall by calling your dog back to you when there are lots of distractions, such as other dogs running around and people walking about.
Left finish.
When the dog returns back you and into the present position, Gaynor will then show you how to get the dog to come around you and back into the heel position.This is called the left finish.
Recall back to heel.
Gaynor will also show you how to recall your dog back to the heelwork position when you are on the move.
Stand
It is in this class she teaches you how to get your dog to do a new position and that is the stand. Once your dog knows this we practice sit, down, and stand. Then we teach you the running down.
Find the toy.
To keep your dog interested and motivated she adds a new exercise. Teaching you how to get your dog to find his toy when it is amongst others.
It is a proven fact that your dog's sense of smell when detecting sweat is a million times better than ours, your dog will welcome the opportunity to show off his superior sense of smell.
---
Agility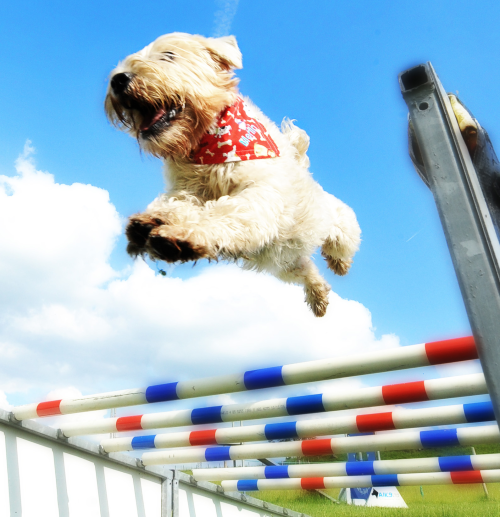 Weather permitting the dogs continues to enjoy the agility course.
As always the dogs run off lead at the beginning and the end of every class for them to socialise.
During this course you will have taught your dog to focus on you when there are distractions around him.
You will have taught new disciplines and taken his education to a much higher level.
Linda with Bella
A HUGE thank you to Gaynor and her assistants at A1K9. I have just come back from a walk in our local park with Bella, our 15 month old GSD. This sounds like a normal activity - and it is, but it wasn't for us.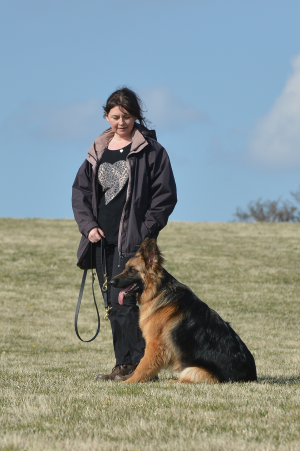 Months of weekly training in Gaynor's classes, from Puppy through to Platinum and beyond, has transformed me and my dog. We have gone from a dog that I couldn't control, one that wouldn't listen to me and one that ran off barking at other people and other dogs TO an obedient, well behaved dog that for the first time today I had the confidence to let off the lead in the park. She listened to me, she socialised beautifully, she came back to heel when I called her. I cannot thank Gaynor enough for this. It has been 10 months of hard work and lots of practice in between lessons, but it has paid off.
Totally recommend this training with Gaynor at A1K9. Thanks guys and see you Saturday, from a very happy Linda and family xxx