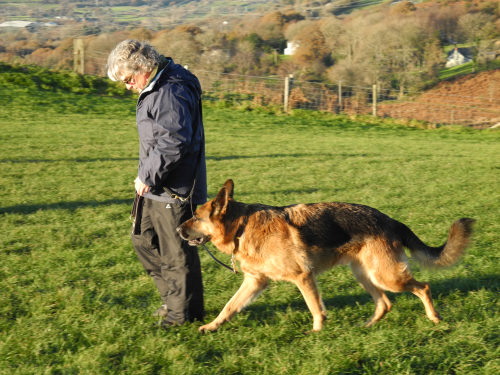 Now you are ready to continue to develop your dog training skills. Cementing what you have already learned, and preparing your dog for off lead obedience.
You will be mastering, new and exciting disciplines, with greater distractions.
You Will Learn
---
Change of pace
Gaynor will teach you how to train your dog to go at the same pace as you, as you change from normal, fast, and slow paces while you are on the move. Changing the pace that you walk increases the dog's interest in what you are doing.
Recall with distraction
Recall is reinforced,this time with the distraction of other people, with their dogs on lead walking around you. Problem solving is done as we go, giving guidance and advice as it is needed. When you have called the dog back to you, Gaynor will show you how to get the dog to sit in front facing you. This makes it easy to put the dogs lead on when it is time to go home. This is called, the present.
Recall is like a muscle, the more you exercise it the stronger it becomes.
Retrieving an article.
This exercise is one that your dog will love. Gaynor will show you, how to get the dog interested enough in an article; to retrieve it. Then guide you, how to encourage him, to return to you, and release the article. This is great way to exercise your dog. It is a very positive way to play with your dog that he will never tire of. Once he likes this, you can use it, as a positive reward to teach him many other things.
Stay
Waiting is a natural part of a dog's life.
Teaching your dog to stay, is an extension of this, patience will be rewarded with your dog remaining in the same position, and relaxing. We will aim for a one minute stay in this class.
Instant down
Once shown the right techniques, you will be able to get your dog, to drop into the down position. It is also the beginning of teaching your dog, the safety down when off lead.
---
Agility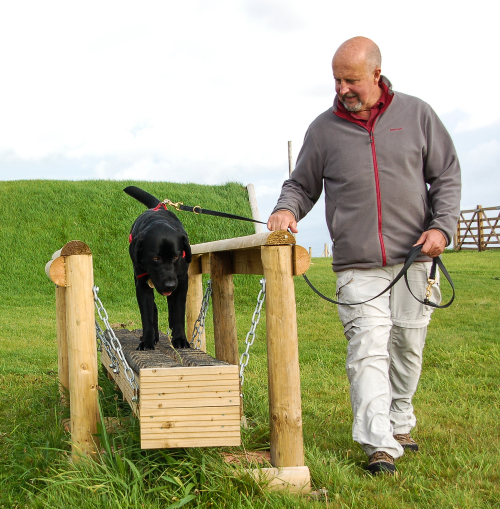 Agility courses are great fun, and dogs love the activity.
Dogs need to be over 12 months of age, to complete a full agility course.
Younger dogs, can enjoy some of the obstacles, such as going through the tunnels and controlled walking over raised walkways and learning to go through the weave poles.
Over the six week silver course you will have prepared your dog for off lead obedience and have more control over your dog in different situations. And continued your dog's socialisation.